Timber Bi-Folding Doors in Surrey
Our bi-folding selections offer Surrey residences a fluid connection with the outdoors. Manufactured from premium materials and expertly installed by our qualified professionals, our timber bifold doors have gained widespread popularity. The inherent sturdiness of timber allows for the creation of slender sightlines, offering a sophisticated, modern facade for your home.
The Essence of Timber Bifold Doors
A bifold door is designed to fold in the middle when it's in motion, either opening or closing. Bifold doors are typically used as exterior doors, especially in areas where space optimisation is essential. Generally, bifold doors comprise two or more panels linked together by hinges, with tracks at the top and bottom guiding the door's movement. Bifold doors can be crafted from a variety of materials, including timber, and can be customised with different finishes, hardware, and accents to harmonise with your room's style and decor. They are celebrated for their space-saving, functional, and adaptable attributes, making them an excellent choice for various types of homes and rooms.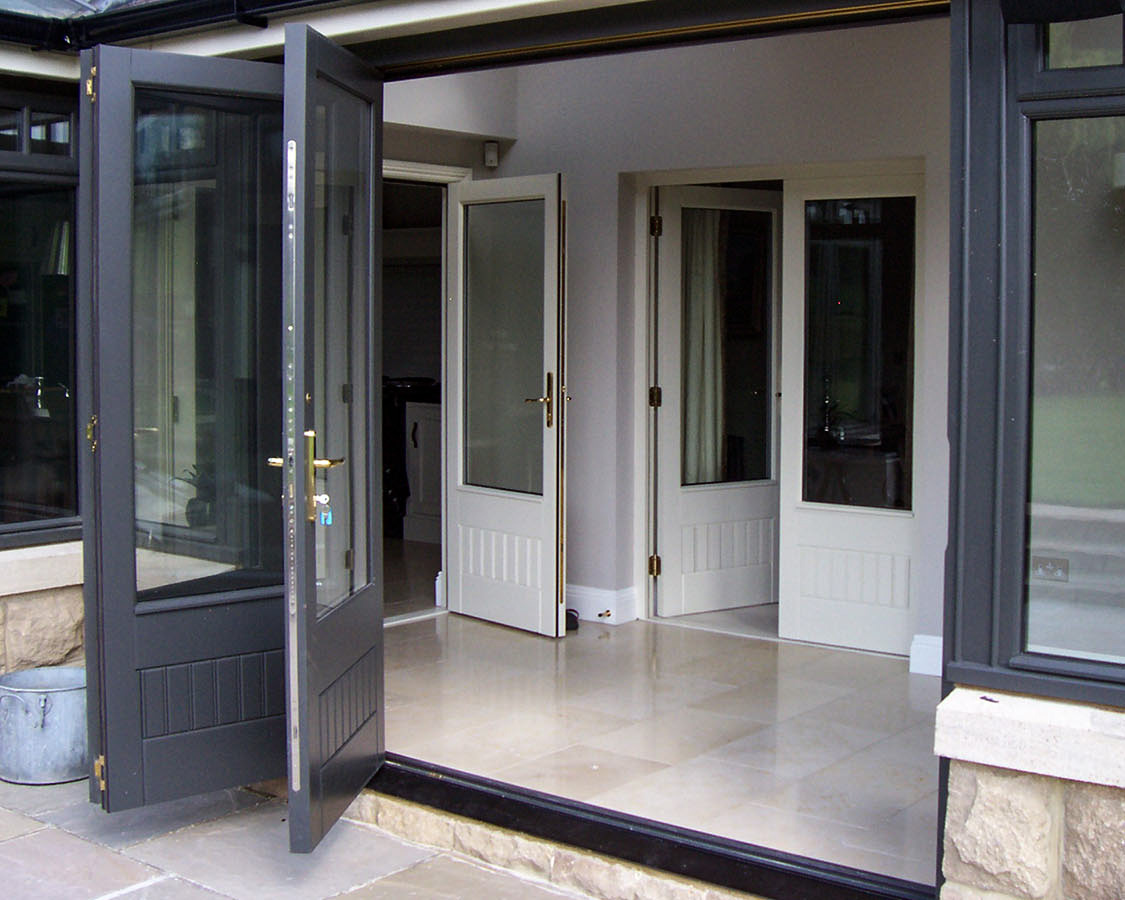 Experience the Outdoors with Timber Bi-Fold Doors!
Bi-fold doors offer a versatile door solution that blends the indoors with the outdoors, providing prime access to your garden. Their concertina folding style and user-friendly operation make them a favoured alternative to traditional sliding patio and French doors.
We provide a wide array of timber folding doors, allowing you to select the ideal aesthetic for your home and enhance your living space.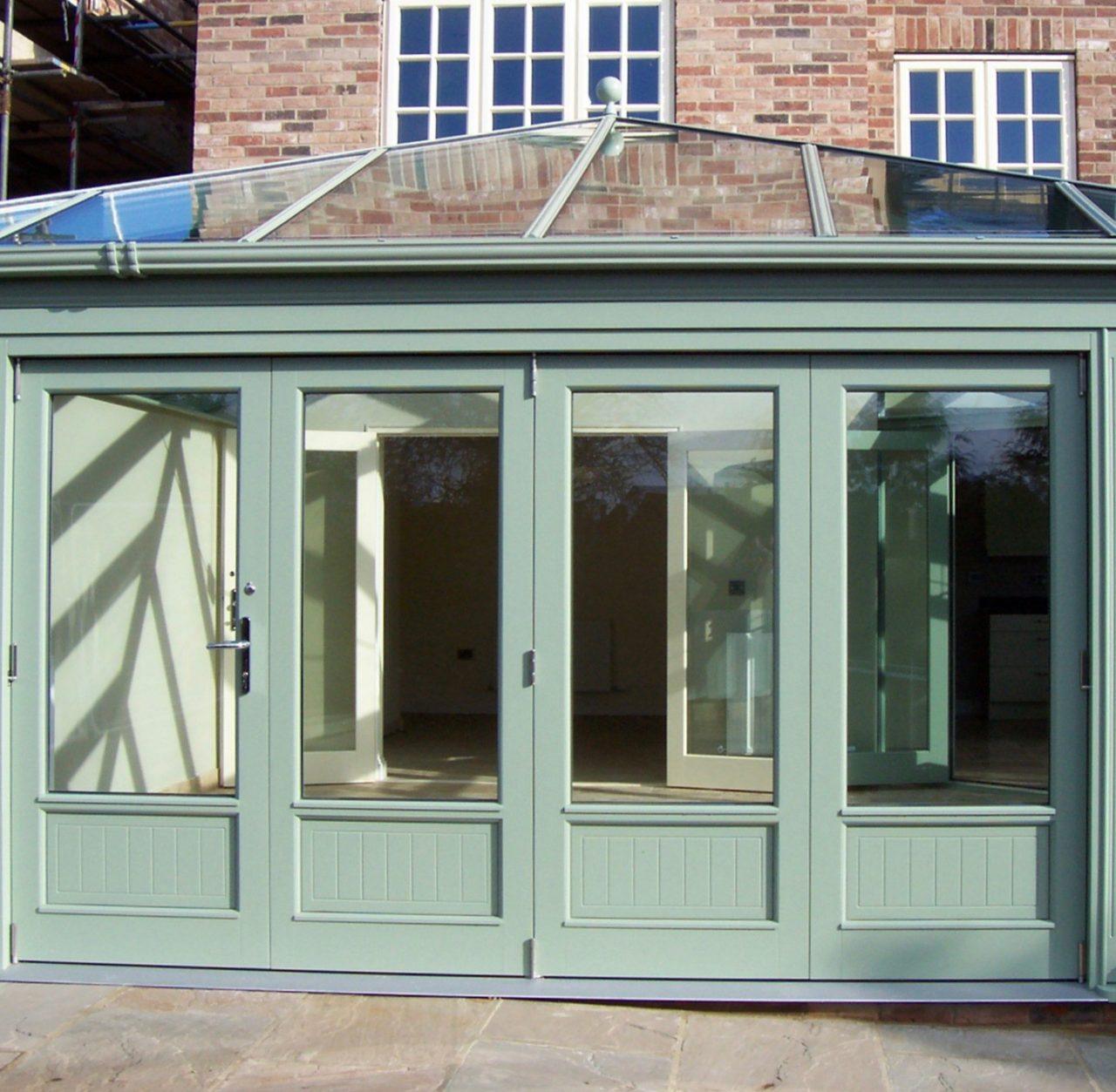 Advantages of Our Bi-Folding Doors

Energy-Efficient
Energy efficiency is a core feature of our bifold doors. For instance, our timber bi-folding doors are fitted with thermal barriers, preventing significant heat loss from your home. Regardless of your choice of material, you're assured of an energy-efficient home improvement solution.

Cutting-Edge Technology
We take pride in sourcing and installing only the best quality bi-folding doors, ensuring your satisfaction with both the style and functionality of your product. Secure your home and belongings with our reliable, secure, and easy-to-operate bi-folding doors.

Bespoke Design
Choosing a functional and elegant bi-folding door can seem challenging. However, with our extensive variety of colours, styles, and finishes, and the support of our experienced team, it has never been simpler to create the perfect door to match your home's unique character.

A Modern Solution with a Classic Touch
Our timber bi-fold doors offer a contemporary solution suitable for both residential and commercial properties. They serve as a fantastic alternative to sliding patio doors, enabling you to fully open a wall and maximise any beautiful views.
They're a flexible solution ideal for bars, cafés, and restaurants, making any location look more appealing while offering protection against the elements during the colder months.
With a myriad of opening configurations and design options, your choices for your bi-fold doors are endless!

Superior Security
Thanks to top-quality, durable materials and advanced technology, our timber bi-folding doors are incredibly robust and built to last. Equipped with a multi-point locking system and reinforced with locking shoot-bolts, security hinges and toughened glass, they provide unmatched security.
Technical Information
1.
Slim Sight Line
With all panels closed, the sight line of our timber bi-fold doors is minimal. This provides a clear view through the glass, allowing an ample amount of natural light into your property, leading to a brighter environment.
2.
Thermal Performance
The doors feature thermal breaks to enhance thermal performance and improve the U-Value. The double rebated top and bottom tracks also ensure a secure weather seal, keeping the warmth inside and the elements out.
3.
Certified Weather Resistance
Every bi-fold system undergoes rigorous weather tests, demonstrating their ability to endure even the most severe weather conditions:
Water: Class E, 750Pa
Air: Class 4, 600Pa, BS EN 12207
Wind: Class 4, 1800Pa
4.
Ease of Operation
Our bi-folding doors come with stainless steel wheels and tracks, guaranteeing smooth and effortless operation for years to come. We also offer a low threshold option, improving the ease of passage through the doors, and rebated thresholds that provide increased weather resistance.
The Cost of Bi-Folding Doors in the UK
The price of bi-folding doors in the UK fluctuates based on several variables, such as size, material type, and the degree of customisation. As a reputable supplier and installer, we can provide a quote tailored to your specific requirements. We're here to assist you in choosing the best option that suits your budget and needs.

Get A Quote
One of our team would be happy to have a chat with you about your requirements, answer any unanswered questions and measure up at a time that suits you to provide you a free, no obligation quote.
Get A Quote

Our customers say
"Used the Sheerwater team to replace a couple of Velux windows in our converted loft. Really first class experience, great communication throughout, super professional and the installation was the best we've had in terms of fit and finish and (lack of) damage to surrounding areas. Will use again!"Tim Loake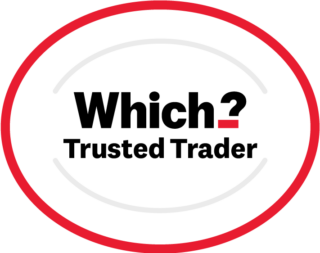 View more reviews on Which?

Areas we cover
Sheerwater Glass provides window installation and repairs throughout Surrey and the surrounding areas of our Woking showroom. If you're interested in our services, we encourage you to check if we serve customers in your area by simply typing in your postcode.
If you check and find that we don't serve customers in your area, in some cases, we may be able to help. Please call us to find out more.