Bi-Fold Doors in Surrey
Our bi-folding products for Surrey's homes provide a seamless view of the outdoors. Manufactured from quality materials and expertly fitted by our qualified installers, for high performance our aluminium bifold doors are our most popular option and with good reason; because of aluminium's natural strength, they can be built with ultra-slender sightlines, resulting in a chic, contemporary appearance for the home.
Bring the outside in with Aluminium bi-fold doors!
Bifold doors are a versatile door solution that helps to bring the outside in, creating optimum access to your garden. Opened in a concertina folding style, their ease of operation makes them a good alternative to sliding patio and French doors.
In addition to aluminium bi-folding doors, we provide an extensive selection of timber folding doors, so you can find the perfect look for your home and improve your living space.
High-quality materials.
Contemporary and stylish in design.
Fully customisable.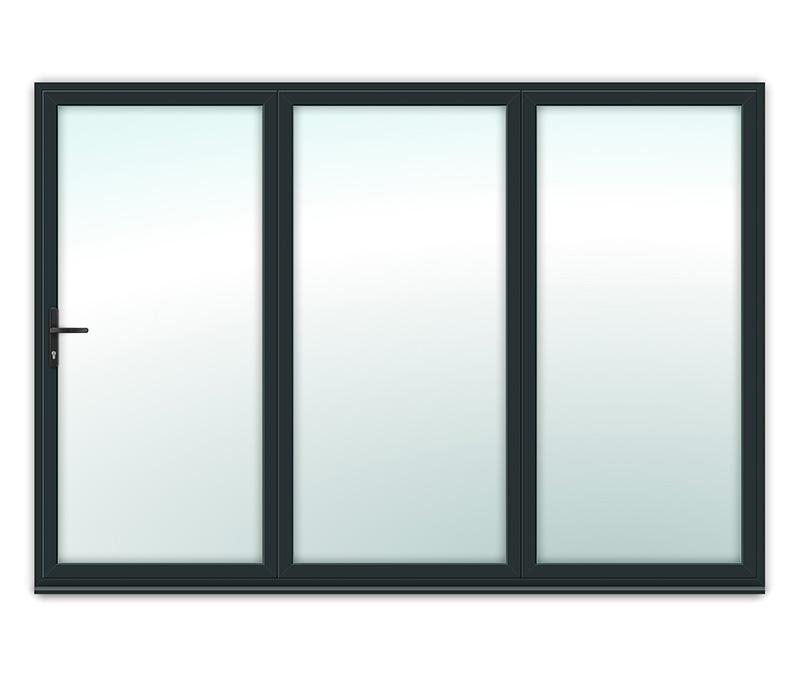 Benefits of our Bi-Folding Doors

Energy Efficient
We don't compromise on energy efficiency on any of our bifold doors. For example, our aluminium bi-folding doors are fitted with polyamide thermal barriers, preventing significant amounts of heat from escaping the home. However, we use the latest thermal technologies on our other bifold door ranges, so no matter which material you prefer, you're getting an energy efficient home improvement solution.

The Latest Technology
We take the time to source and install only the best quality bi-folding doors, ensuring you are always delighted with both the style and function of your bi-fold product. Guarantee your home and possessions remain safe and secure with our incredibly practical, secure and easy to operate bi-folding doors. 

Custom Design
It can seem daunting to find a bi-folding door that is both functional and sophisticated. With a wide range of colours, styles and finishes to choose from and the support of an experienced team member, it has never been easier to create the perfect door to suit your home's character.
A Contemporary Solution
Aluminium bi-folds from Sheerwater Glass are a modern solution for all domestic and commercial properties. An excellent alternative to sliding patio doors, with them, you can completely open up a wall and make the most the most of any beautiful views.
A popular choice for bars, cafés and restaurants, they're perfect for giving any locations a more contemporary feel. They're an adaptable solution for opening your business to the passing public during the summer, whilst protecting you from the elements in the chillier months.
With a range of opening configurations and design options, you will have utter freedom with your bi-fold!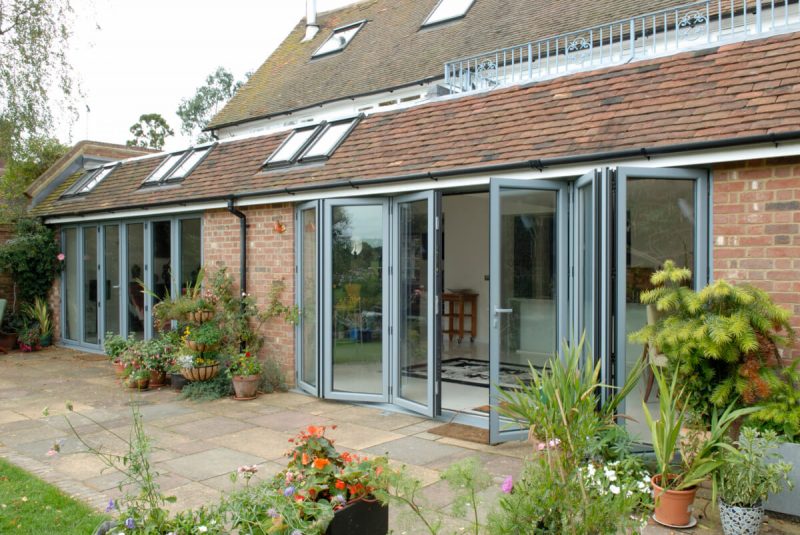 Excellent Security
Thanks to the use of high-quality, durable materials and state of the art technology, our Sheerline aluminium bi-folding doors are incredibly strong and built to last. Fitted with a multi-point locking system and supported by locking shoot-bolts, security hinges and toughened glass, they are also incredibly secure. Their security features include:
PAS 24:2012 certified
Multipoint locking system on main opening sashes
Shoot-bolt locks on floating mullions
Five-lever Euro profile cylinder
Internally glazed as standard
8mm gasket between panels
Burglar resistant fittings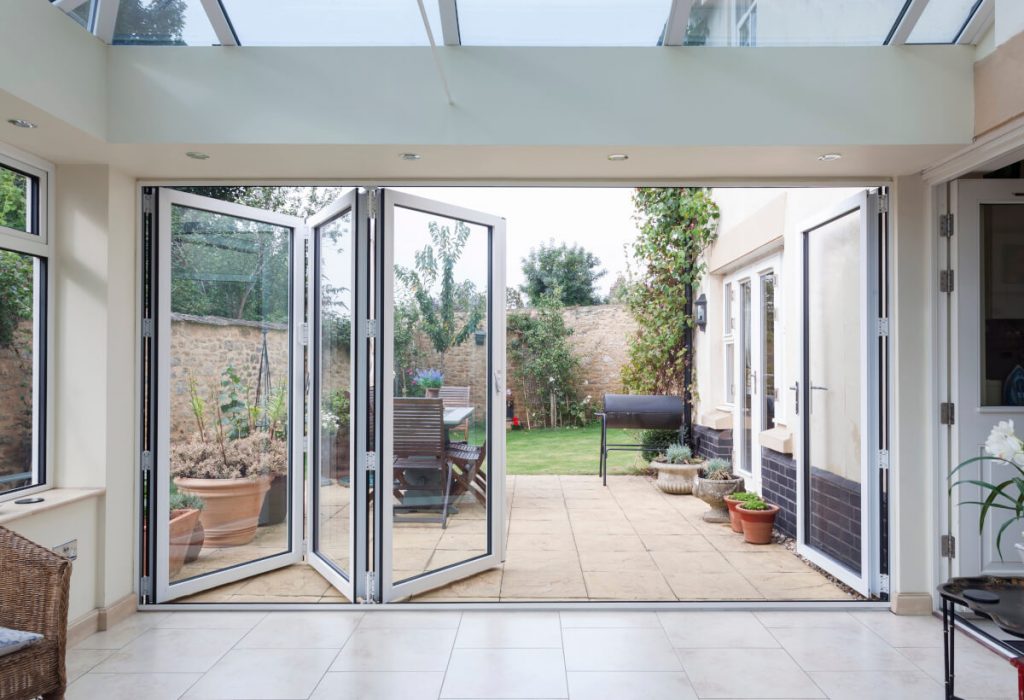 Technical Information
1.
Slim Sight Line
When all the panels are closed, the sight line of our Sheerline aluminium folding doors is just 132mm. This affords you an uninhibited view through the glass, simultaneously allowing a great amount of natural light inside the property, leading to a brighter environment.
2.
Thermal Performance
The profiles feature polyamide thermal breaks to enhance thermal performance and improve the U-Value. When using a centre pane that has a U-Value of 1.0 W/m²k, they can achieve an overall U-value of just 1.5W/m²K. The double rebated top and bottom tracks also provide a tight weather seal, keeping the heat in and the weather out.
3.
Certified Weather Ratings
Each bi-fold system has been tested and passed stringent weather tests, confirming they truly keep the worst weather outside:
Water: Class E, 750Pa
Air: Class 4, 600Pa, BS EN 12207
Wind: Class 4, 1800Pa
4.
Operation
Equipped with stainless steel wheels and tracks, they can be operated with ease for years to come. We also provide the choice of either a low threshold, which make it easier to transition through the doors along with rebated thresholds that offer improved weather resistance.
FAQs
How much do bifolding doors cost in UK?
The cost of bifolding doors in the UK can vary depending on several factors, such as the size, type of material, and level of customisation. As a reputable supplier and installer we can give you a quotation based on your specific requirements. We can provide you with a more accurate estimate and help you choose the best option for your budget and needs.
What is a Bifold Door?
A bifold door is a type of door that folds in half as it opens or closes. Bifold doors are commonly used as external doors, and other places where space is limited. Bifold doors typically consist of two or more panels that are hinged together, with tracks at the top and bottom to guide the door as it slides open and closed. Bifold doors can be made of a variety of materials, including wood, and aluminium, and can be customised with different finishes, hardware, and accents to match the style and decor of the room. Bifold doors are popular because they are space-saving, functional, and versatile, making them a great choice for many different types of homes and rooms.

Get A Quote
One of our team would be happy to have a chat with you about your requirements, answer any unanswered questions and measure up at a time that suits you to provide you a free, no obligation quote.
Get A Quote

Our customers say
View more reviews on Checkatrade

Areas we cover
Sheerwater Glass provides window installation and repairs throughout Surrey and the surrounding areas of our Woking showroom. If you're interested in our services, we encourage you to check if we serve customers in your area by simply typing in your postcode.
If you check and find that we don't serve customers in your area, in some cases, we may be able to help. Please call us to find out more.