Aluminium Roof Lanterns
Smart & stylish Aluminium Roof Lanterns installed across Surrey
Let the light into your Surrey home
Designed to sit on top of flat roof structures or in the centre of an orangery, our aluminium roof lanterns are perfect for introducing light and adding visual appeal in a distinctively contemporary way.
Thanks to the incredible strength of aluminium, not only are they supported extremely well against strong winds and heavy snow but their frames can be constructed to ultra-slim proportions. This means they're built to last, plus they boast of a stylish, modern design that allows huge quantities of light to flood inside. Contemporise your Surrey home and brighten it up with a stunning roof lantern from Sheerwater Glass!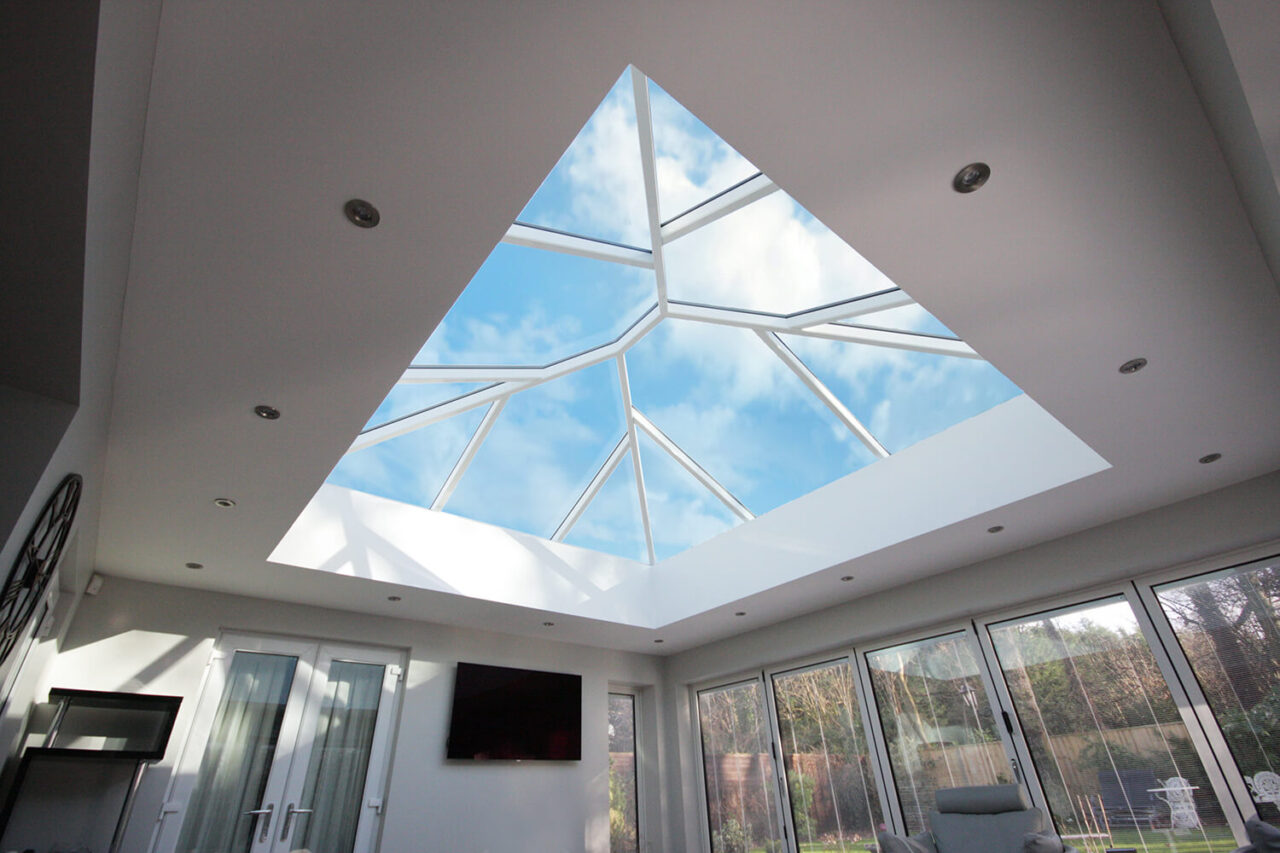 Benefits of our Aluminium Roof Lanterns

Energy Efficient
Our aluminium roof lanterns make use of an innovative polyamide thermal break system, which significantly reduces heat transfer through the framework. When combined with high-quality glazing, the thermal performance that can be achieved is absolutely excellent, ensuring a cold home is a thing of the past!

Self-cleaning glass
Choose from a variety of glass options but whatever you choose, you can always except a strong thermal performance. Most of our glass options are also self-cleaning, which means that any organic material is broken down on the glass surface and washed away by the rain. So, you needn't worry about performing unnecessary amounts of upkeep.

Stylish design
The aluminium profiles are deep but beautifully slender and the lower edges feature subtle ogee detailing. In addition to this, any fixings are fully concealed, ensuring for a clean, seamless appearance that looks incredibly appealing. No matter where one of our roof lanterns is fitted, it will instantly draw the eyes of others.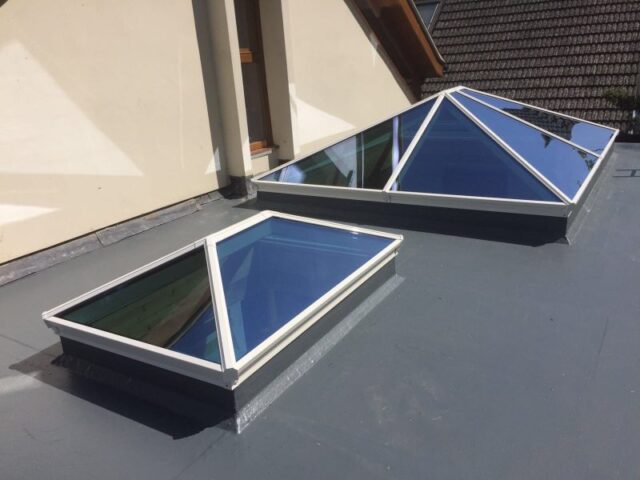 Suitable for any location thanks to tinted glass options!
We offer a range of tinted glass options, meaning we can install our aluminium lantern roofs in any location without worrying about you feeling uncomfortable.
Blue, Aqua, Bronze, Neutral and other types of tinted glass are available to choose from and the different tints are able to reduce solar heat gain and light transmission. Therefore, we're able to optimise the performance of our roof lanterns in relation to their location.
As a result of this, you needn't worry about your home overheating after extensive sun exposure or being unable to see because of the sun's glare.
Secure & Weatherproof
There's no need to worry about the security of your home being compromised whatsoever thanks to a glass lock system and tamper-proof fasteners, which firmly secure the roof lantern's components together. Any fasteners are also concealed by finishing caps, so they're not visible to anyone trying to gain entry.
Complete with the best weather seals and gaskets, they'll keep your property completely free from draughts and the weather too.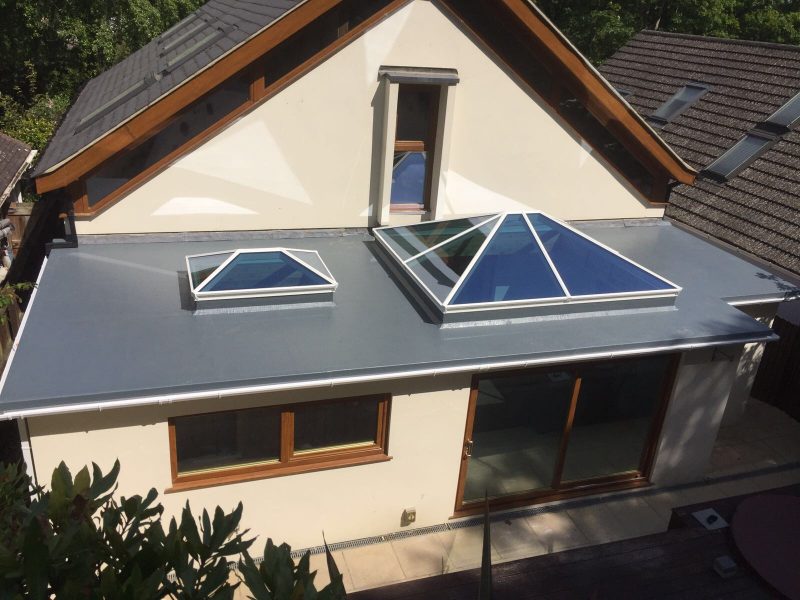 Technical Information
1.
Energy Efficiency
The combination of a thermally broken eaves beam, insulating T-bar and high-performance glazing ensures for exceptional thermal performance. Achieving truly outstanding U-values of just 1.2 W/m2k, our roof lanterns ensure for year-round comfort, no matter where they're located.
2.
Customisation
As standard, our roof lanterns come in Gloss White, Matt Grey and Matt Black. These colours can also be applied in any internal and external combination. However, they can also be supplied in any RAL or BS colour, giving you complete flexibility over its appearance. Here at Sheerwater Glass, we make it easy to create a lantern roof that suits the look of your home perfectly.
3.
Profile
Their sections stand at only 57mm wide, meaning they are amongst the slimmest on the market. Slim sections mean a larger glass area, which in turn leads to increased light entry and less restricted sky views. They also have fewer rafters than other systems, improving light entry further.
4.
Support
Thanks to premium quality components that are finely put together, they're extremely sturdy. To put this into context, a 6m x 4m variant of our roof lantern can support over 8 tonnes of weight! Therefore, they won't be fazed by heavy snowfall, strong winds and other extreme weather conditions.

Get A Quote
One of our team would be happy to have a chat with you about your requirements, answer any unanswered questions and measure up at a time that suits you to provide you a free, no obligation quote.
Get A Quote

Our customers say
View more reviews on Checkatrade

Areas we cover
Sheerwater Glass provides window installation and repairs throughout Surrey and the surrounding areas of our Woking showroom. If you're interested in our services, we encourage you to check if we serve customers in your area by simply typing in your postcode.
If you check and find that we don't serve customers in your area, in some cases, we may be able to help. Please call us to find out more.