Composite Doors in Surrey
Composite doors are the preferred double glazed external door for homeowners in Surrey nowadays for an abundance of reasons. They can be designed in a plethora of popular colours and styles, with a range of furniture, decorative glazing and hardware options to suit both old and new homes alike. The choices are only limited by your imagination!
They offer the natural aesthetic of timber woodgrains whilst being low maintenance for the best of both worlds. Not only will they add kerb appeal to your home, but our high-quality composite also excels in its thermal insulation, durability and security. They're ideal for any homeowner.
Scroll down to try our composite door builder and create your dream design
Why choose our composite door range for homes in Surrey?
Our collection of composite doors excels in their performance and style:
Use a glass-reinforced polymer (GRP) skin that protects the material.
Fitted with advanced locking mechanisms to improve home security.
The modern materials are maintenance-free.
Resistant to splitting and cracking.
An array of colours, handles, glass and letterboxes for a unique design.
Able to suit both the front and back of homes with traditional stable and modern styles.
We supply and fit composite doors for Woking and across Surrey, Berkshire and beyond.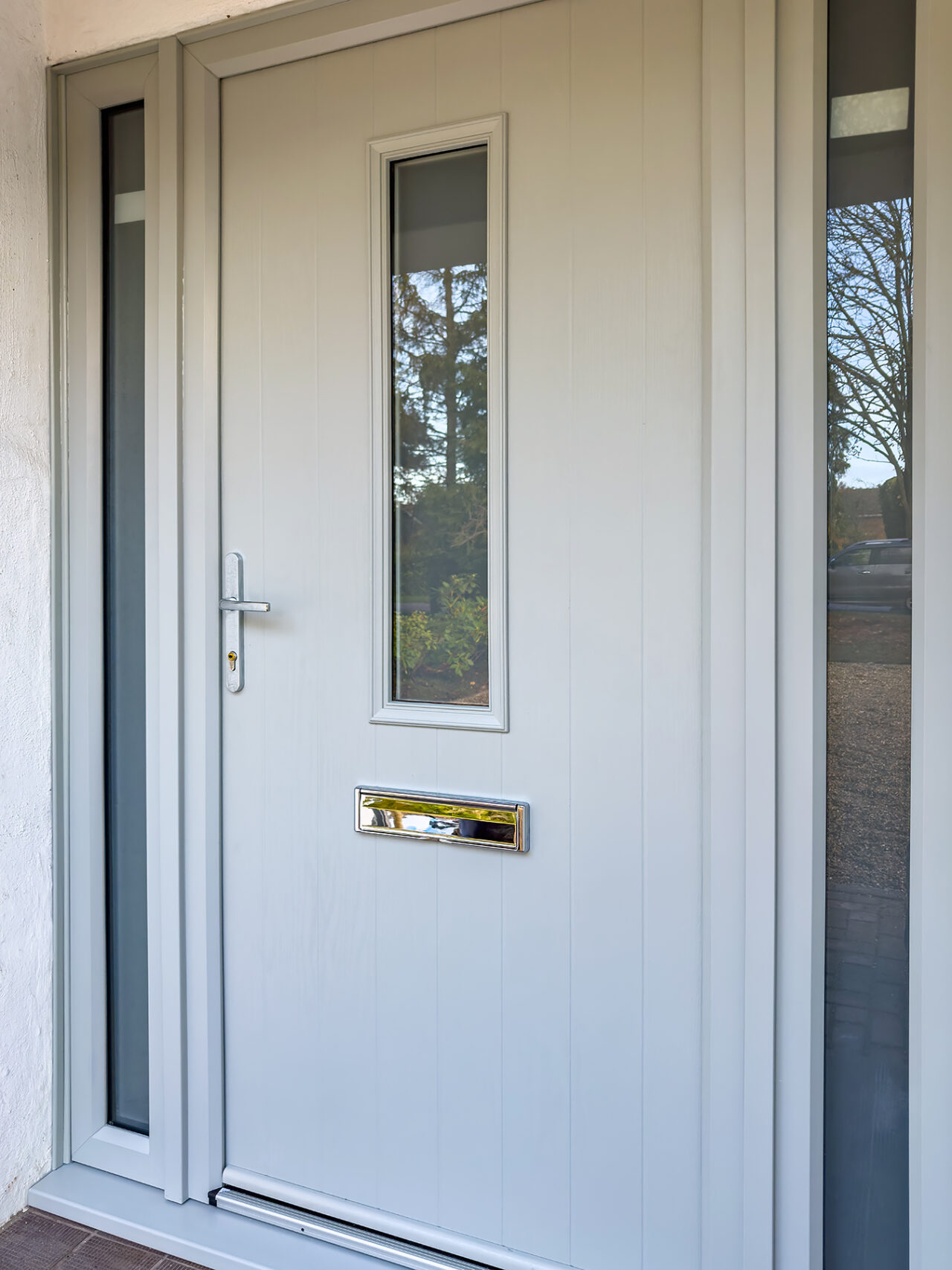 What are the advantages of a composite door?
They are strong keeping your home safe.
Composite doors are energy efficient, saving you money on your energy bills.
They come in many styles to fit any home.
They are easy to maintain saving you time.
Composite doors add kerb appeal to your home.
They last a long time saving you money on more regular replacements.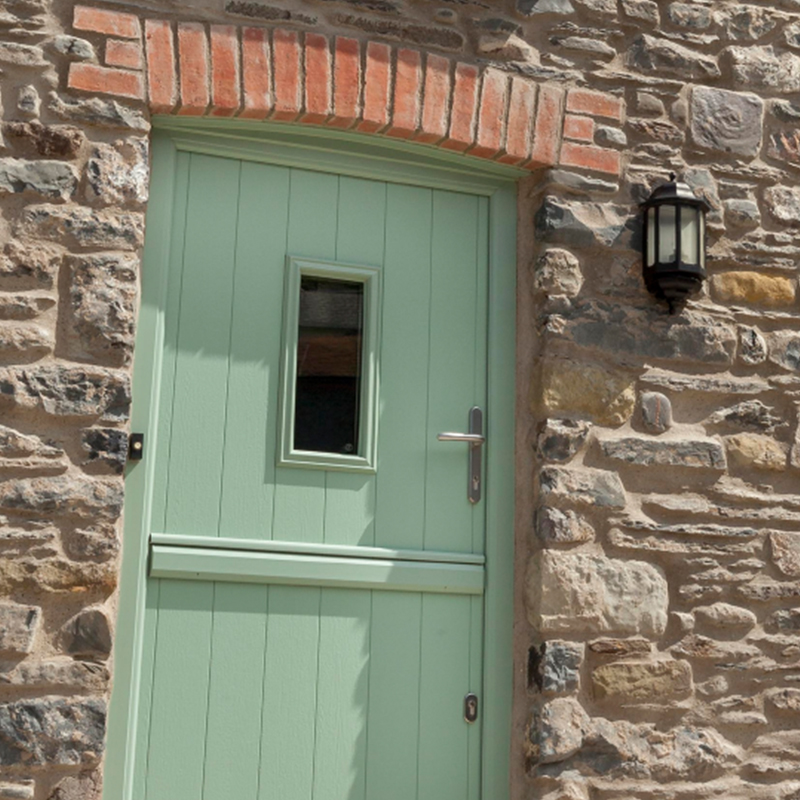 Composite Door Styles
The beauty of a composite door is that its designs are incredibly versatile, so they can be uniquely created to fit your personal tastes. Our made-to-measure composite doors will suit any style of home in Surrey or Berkshire.
Our composite door colour options range from grey and black, to bright red or navy. Green composite doors and grey composite doors are two of the more popular options available, able to complement and enhance a plethora of Surrey homes. With over 150+ RAL colours, the options are endless. You could choose to include Georgian bars, decorative glass and any of our door furniture pieces for a bespoke composite door style for your home.
Our composite doors can be styled to suit the front and back of homes in either an entrance, French or stable door style. If looking for more of a classic, traditional composite door choice, then our composite French doors will be able to add a considerable amount of class and improvement to any Woking home. In a similar sense, composite stable doors present another great choice for a number of properties in Surrey, giving a range of advantages such as increased ventilation and security.
Try our Composite Door Builder
It couldn't be simpler to use and create a tailor made new door. Starting with the design of the door, the planner offers you a wide variety of specification options at every stage and allows you to play around with the details as you go along. Start by clicking the 'Design' button or use the information point for instructions to build your composite door online.
Benefits of Composite External Doors

Secure and Strong
Composite doors offer maximum security and durability. Each door is constructed and fitted with glass reinforced polymer (GRP) and a solid timber core, along with a stable inner frame, full-face aluminium hinge and lock plates, and an aluminium threshold. GRP doors provide an ideal finish for external composite doors and in turn allow for a host of composite door styles and configurations.
The locking systems are continuously tested against common burglary techniques for the ultimate peace of mind. They can withstand tough weather conditions too, making them ideal for properties near the coast or exposed areas.

Energy Efficient
Composite boasts A+ energy ratings and low U-values as they combine high-performance timber and uPVC. About 35% of the heat in your home will escape through the gaps in and around older doors, but not with our draught-free composite materials.
They're engineered to ensure that your home stays warm throughout the year. With their excellent thermal insulation performances, you'll see reductions in your home's heating bills.

Low maintenance
Real timber doors require continuous upkeep to protect the natural materials included. However, our modern composite is essentially maintenance-free. In a similar sense to uPVC doors, we simply suggest wiping down the frames every once in a while to remove any debris.
These durable doors are able to last for at least 30 years, without rotting, cracking or splitting. We also coat the frames in a protective coating, which stops the colour from fading. With our quality composite, you can be sure that they'll look and perform like new for years to come.
FAQ's
Is a composite door worth it?
Composite doors are of excellent value and well worth the investment. Composite doors have a long lifespan of around 35 years. They are easy to maintain, have excellent insulation to keep your home energy efficient and are strong, keeping your home safe.
Are composite doors warmer?
Composite doors are made up of multiple materials and are often thicker than other types of doors. This means they keep your home warmer and minimise loss of energy.
Have you got an issue with your composite door?
Given their rate of usage, it is natural that eventually, your composite door may experience a small amount of wear and tear. We offer composite door repair services throughout Surrey, whether the issues relate to the door getting stuck, a handle being faulty or a small draught appearing; we will be able to use our expertise to restore it to full working order.

Get A Quote
One of our team would be happy to have a chat with you about your requirements, answer any unanswered questions and measure up at a time that suits you to provide you a free, no obligation quote.
Get A Quote

Our customers say
"From start to finish, the service has been outstanding, from understanding our requirements and particular wishes, to keeping in contact with us regarding lead times, right through to the fantastic installation guys who worked so hard and completed the installations efficiently and perfectly."Melinda Weare
View more reviews on Checkatrade

Areas we cover
Sheerwater Glass provides window installation and repairs throughout Surrey and the surrounding areas of our Woking showroom. If you're interested in our services, we encourage you to check if we serve customers in your area by simply typing in your postcode.
If you check and find that we don't serve customers in your area, in some cases, we may be able to help. Please call us to find out more.