Conservatory & Orangeries in Surrey
Installing a conservatory in Surrey is an effective method of increasing the space and value of your home. Whether you want a modern conservatory extension, a lean-to orangery, or another custom-made glazed extension, you can enjoy the functionality of an extra room for all seasons when choosing Sheerwater Glass.
Efficient, innovative and flawless in design, our range of conservatories, orangeries and roof lanterns in Surrey give you a diverse selection to choose from for your home. A place for contemplation, for growing ambitions, or a place to relax, our glass extensions in Surrey are fitted to last and capture the essence of your home's character and your requirements.
Experts in conservatory designs and installations in Berkshire and Surrey
While we guarantee a quality product and installation, we're also confident we will have the right style of glass extension you desire for your Surrey home.  Whether it's traditional orangeries or sleek and modern conservatories you're looking for, our wide range of glazed extensions has something for every homeowner's taste. You will be able to collaborate with us to develop your existing living space with a custom-made conservatory design, or create an entirely new glazed extension and benefit from the functionality of an extra room for all seasons.
All of our conservatory builds come with high-grade security and can include multi-point locking systems. This makes sure your new extension will be safe for you and your family.

High-Performance Modern Conservatories
At Sheerwater Glass, we offer a fantastic range of high-performance modern conservatories to suit any property and taste. Whether you're looking to create additional living space, increase the value of your home, or simply enjoy the benefits of more natural light, we can help you achieve your goals with our expert conservatory installations.

Materials & Styles
Our conservatories are available in a large range of materials and styles, from traditional Edwardian and Victorian designs to modern and contemporary options. We offer a range of glazing options, including self-cleaning glass and energy-efficient glass, to ensure maximum comfort and efficiency throughout the year.

40+ Years Experience
Our team of expert installers has over 50 years of experience in the industry and are dedicated to delivering exceptional quality and outstanding customer service. We pride ourselves on our attention to detail, and we work closely with our clients to ensure that their conservatory is tailor-made to their unique needs and requirements.
Edwardian Conservatories
The structural architecture of Edwardian conservatories is reflective of the Edwardian period. The unique design is achieved by combining the bold characteristics of rectangular shapes, decorative designs, coloured glass, elaborate cresting and finials, which produce an exclusive identity for your Surrey home.
An Edwardian conservatory usually consists of a square-shaped face with a flat front and a sloping, ridged roof, which can come three or four-sided to create a spectacular vaulted effect. The finished product creates a bright, airy living space with a distinct impression of increased height and space.
Key features:
Made-to-measure
High-tech roofing system
Solid yet lightweight roof
Solid base and foundations
High-grade security system for peace of mind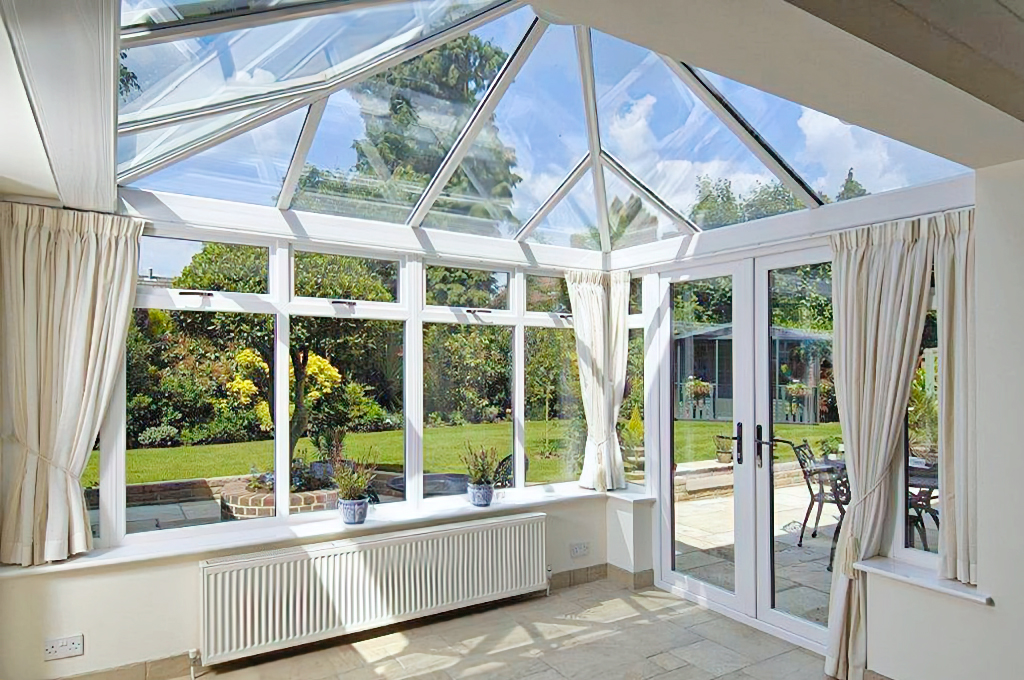 Victorian Conservatories
Our Victorian conservatories are one of the most popular styles that we install. The reason being that they're traditional in design and engineered with the latest technology, which ensures they're low maintenance and energy-efficient. The flexibility of the Victorian design ensures it is suitable for the many dissimilar house styles.
The development of modern building techniques such as double-glazing and materials like uPVC or aluminium all contribute to an elegant and energy-efficient addition to the home. The Victorian conservatory design is available in two different styles; 3 facet, a bay front version that has 3 main windows, or a 5 facet, which creates an even more rounded appearance.
Key features:
Made-to-measure using the finest materials and techniques
Intricately leaded glass
Secured by multipoint locking systems
Superb thermal efficiency
Complex architectural features
Built on a strong and suitable foundation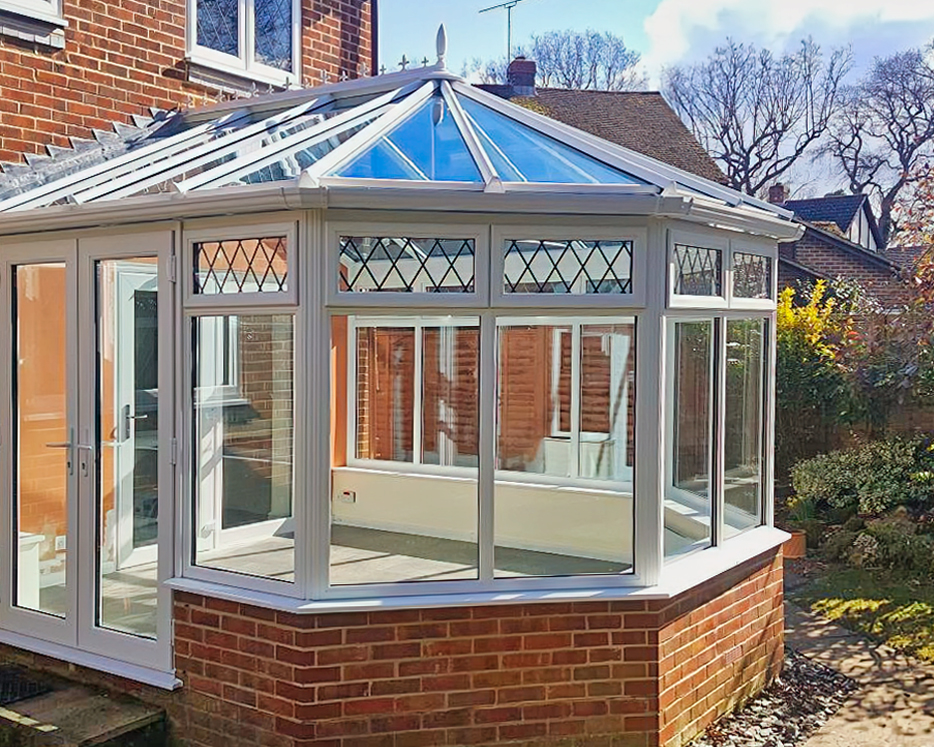 Icotherm Roofs
If you're considering upgrading a conservatory roof or extending your property with a room that has a homely feel, Icotherm's timber roof solutions are your perfect choice. Designed to cater to both standard conservatory roof replacements and bespoke new builds, these roofs blend seamlessly with your property's aesthetic.
Key Features:
Eco-friendly timber
Customisable
Quick installation
Thermally efficient
10 years guarantee
Available in a wide range of internal & external finishes, colours, sizes, lighting, windows & glazing options
Different roof options available (icoroof, icoview, icospan, and ico600)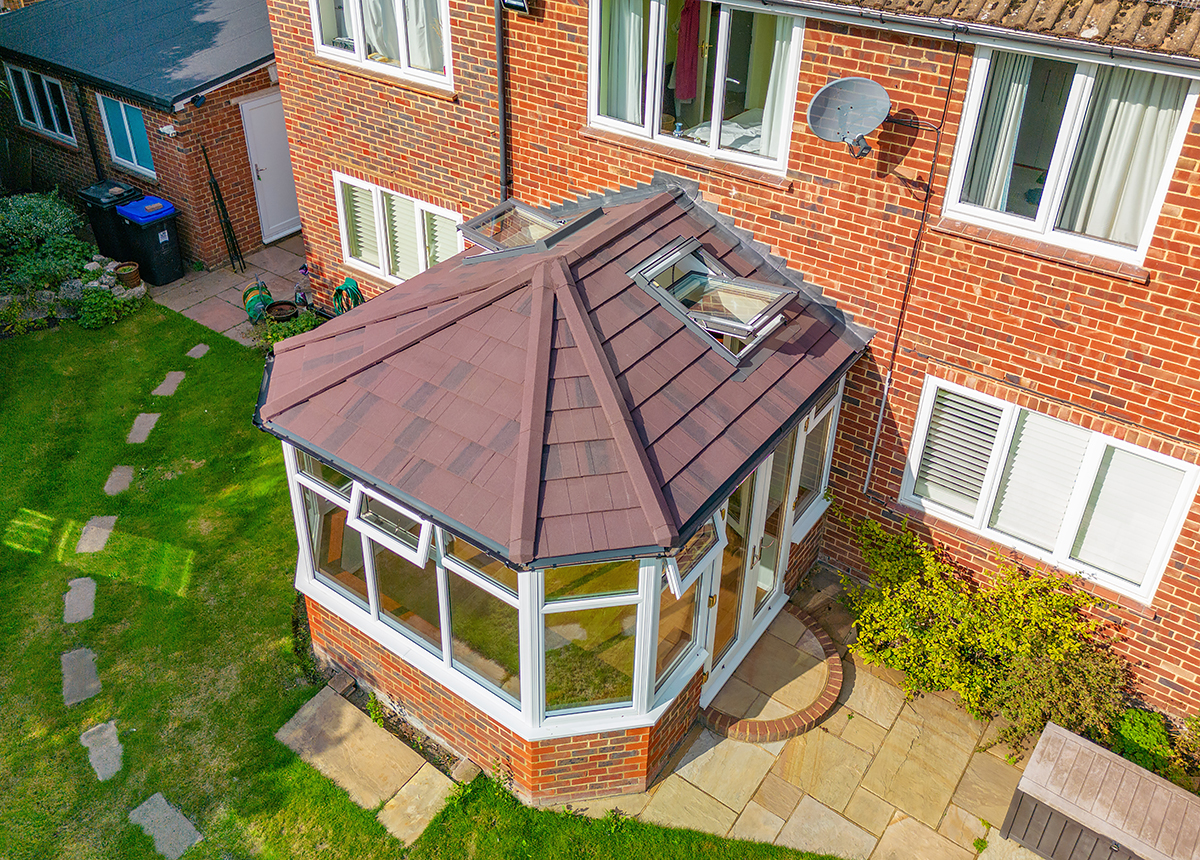 Modern Glazed Extensions
Glazed extensions are the ideal solution for homeowners looking for additional living space and a modern touch for their home. Popular glass extension designs include our sleek bi-fold doors and large slimline windows to let in an abundance of natural light. When it comes to the roofing option, our solid or tiled roofs will add structural integrity whilst enhancing its contemporary aesthetic. A bespoke roof lantern could even be incorporated to add the 'wow-factor'. With a range of colours and styles, we can create a glazed extension that appears to naturally extend from your existing home.
Key features:
Serves any function, such as a family room or home office
An array of modern colours, such as black, grey and white
High-performance and insulating materials
Bespoke designs, tailored to your home
Incorporate any of our windows and doors
Highly secure and weather-resistant